Gold Seal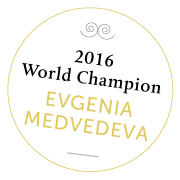 Named for a reason.
The Gold Seal blade won more Gold Medals than any other model at Sochi 2014. Coincidence? We think not. Perhaps the most widely recommended blade by Russian coaches, this blade delivers for freestyle and pairs skaters seeking an optimal spinning experience. Due to its higher heel stanchion, unique compound radius and tapered/hollow ground features, skaters report experiencing effortless spins and control in their footwork sequences and edge jumps. Trusted and worn by modern greats: Adelina Sotnikova, Volosozhar & Trankov and Elena Radionova.
Blade Types Available

Narrowed at the tail to reduce friction on the ice.

Technology that centres your weight to increase stability and precision.
Find out more
Toe Rakes Available

It's simple - more points equal more grip. Fact.
Extras

Our blades are designed to endure the stresses of world-class competition. So all come with a lifetime warranty.

Your name or initials can be etched on your blades at the point of manufacture for a truly unique finish.